Today's entry is especially dedicated to my favourite football club - Liverpool FC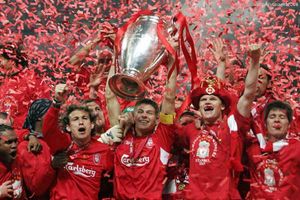 Never mind if you lose EPL, FA... what mattter is THEY WON UEFA CHAMPIONS LEAGUE!!!
The only word to describe this morning match - UNBELIVABLE! The Mighty Reds were down 3-0 at first half. The 53sec goal scored by AC Milan shocked everyone. Then came another 2 more goals. Everyone thoought that was it. AC Milan have secured the champions league crown, theres no way Liverpool could fight back. However, second half goals by Liverpool's talismanic captain Steven Gerrard, Vladim铆r Smicer and Xabi Alonso wiped out Milan's seemingly unassailable half-time advantage.
~Steven Gerrard - I'm so proud of him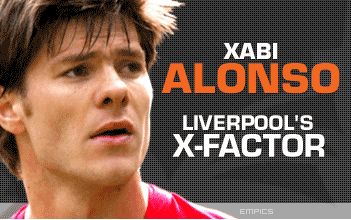 ~ Xabi Alonso, scored the third goals *quite cute right*
Three goals down at half-time, within 15 minutes of the second half Liverpool had hauled themselves back on level terms. Who could imagine that?! But my red boys did it! Such a stunning fight back! Totally stunned everyone with slience!!!
Went into 2 rounds of extra time and finally a penalty shootout. Serginho fired Milan's first penalty over before Liverpool goalkeeper Jerzy Dudek saved Andrea Pirlo's spot-kick. Dietmar Hamann and Djibril Ciss茅 nervelessly converted their spot-kicks and, although John Arne Riise's kick was blocked by Dida, Andriy Shevchenko - who scored the winner in Milan's shoot-out win against Juventus FC in the 2003 final - was denied by the Dudek to give Liverpool a famous victory.
Duduk, though I thought you were such an idiot to miss the first and third goal by AC Milan, but you saved the 3 penalty shoot out, so you are forgiven!
Liverpool - King of Europe! In taking their fifth European title, and their first for 21 years, they were awarded the trophy to keep.
Man U, Chealsea, Arsenal did have this glory at all...
Man U, you can go cry till the kingdom come cause u lost the penalty shootout on Sunday to Arsenal! So, do you have an UEFA cup to KEEP?!
*notice the word KEEP, and not won the title?*
Clariss sings~~~~
When you walk through a storm
Hold your head up high
And don't be afraid of the dark
At the end of the storm
Is a golden sky
And the sweet silver song of a lark
Walk on through the wind
Walk on through the rain
Tho' your dreams be tossed and blown
Walk on, walk on
With hope in your heart
And you'll never walk alone
You'll never walk alone